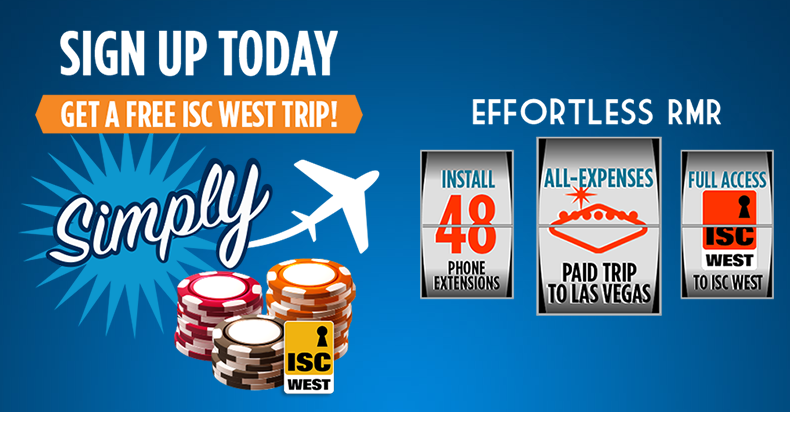 MongoTEL Inspires Low Voltage Installers To Be Great With Complimentary Vegas Trips and Sponsored Admission to ISC West, The Largest Industry Event
January 4, 2016
There's one thing MongoTEL realized after it's recent high profile success in San Francisco; Installers don't just want to do what they do for a living, and while additional RMR streams are important, there's a third element at play as well; Installers want to know that they are appreciated as valued members of the companies whose products they represent.
Brooklyn, NY, January 4, 2016 – MongoTEL is ringing in the New Year with an exciting offering for Low Voltage Dealers Nationwide: the opportunity to attend the industry's largest security conference and exposition, International Security Conference (ISC) West 2016 at the Sands Expo, in Las Vegas, Nevada April 6-8, free of charge!
The MongoTEL Certified Dealer Program is designed specifically to provide dealers and integrators with additional services and subsequent recurring monthly revenue (RMR) from the sales and installation of VoIP and hosted telephone communications services to end-user customers. MongoTEL's high-definition, cloud-based phone systems and virtual PBX platforms are a natural fit with current dealer offerings.
MongoTEL's acclaimed VoIP Telephony Systems, sold exclusively via industry installers, are based on the company's proprietary solutions and are best leveraged and delivered by professional, certified low-voltage installers. The program and equipment allows them to migrate easily to new sources of RMR in the burgeoning VoIP market with a proven, high-quality, professionally installed telephony solution that "just works" for their end-user customers.
"We're excited to run this promotion and reward our security and low-voltage partners for their business. They understand that VoIP telephone services need to be expertly specified, installed and delivered and are not plug and play," said Moshe BT, President of MongoTEL. "They know how to deliver on the technology."
As the telecommunications infrastructure continues to move away from copper phone lines to Internet-based communications, professional low-voltage contractors are in the perfect place to offer these solutions to their customers, increasing their subscriber base and providing their customers with a modern telephony solution that works today and will remain cutting edge as we move into the future.
Program Specifics
The program particulars are simple: all dealers have to do is bring in a total of 48 new extensions by the end of February – and they are on their way. The reward program pays for two (2) roundtrip airfares from anywhere in the continental U.S., one hotel room for three days and two nights and two exhibit hall passes for the three-day event. It applies to all dealers who meet the installation requirements, and is not a random drawing.
Moshe BT said most commercial or enterprise customers have at least 25 or more users, so reaching that mark will be highly attainable, adding that the 48 extensions can equal about $10,000 annually in RMR. "Professional low-voltage installers can easily add VoIP and cloud-hosted PBX solutions to their portfolio and significantly boost their RMR with strong, residual income."
The MongoTEL Certified Dealer Program includes:
A superior VoIP product available exclusively through certified dealers and not available to consumers directly; online or offline.
No minimum starting requirements for hardware purchases.
MongoBILL, an installer-only payment platform that takes care of all their client RMR billing and payments, giving installers a 100% hassle-free solution. Simply install the phones and receive a monthly ACH directly into your bank account!
Technical training and sales and marketing assistance.
Comprehensive lead generation program and other support.
Find out more today! Contact MongoTEL at: (718) 942-9990; email info@mongotel.com
About MongoTEL
Built by experts in the telephony business, MongoTEL is a leading service provider of quality, cloud-based VoIP and PBX phone systems. Designed specifically for the low-voltage community as a professionally installed solution, MongoTEL offers a proprietary hardware/software platform. Live U.S.-based support, providing the industry's most clear telephony communications, is integrated seamlessly in a full-featured solution for every end-user customer.